netool.io NE1
Connects wirelessly to your iOS or Android devices and detects:
Get the information you need quickly and easily on your Android or iOS Phone, tablet, and laptop!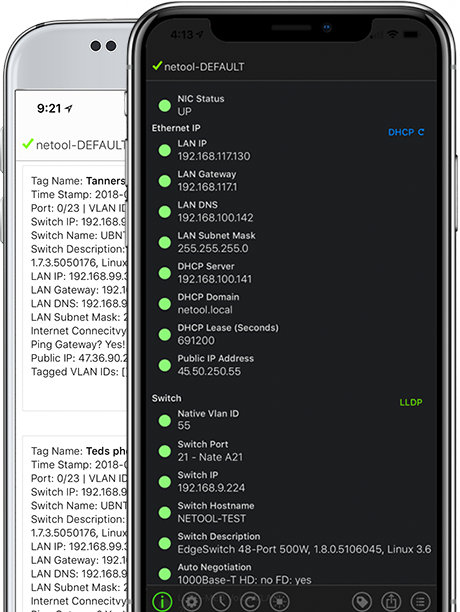 The smallest network engineering tool on the market. Every team member can carry one and use their phone.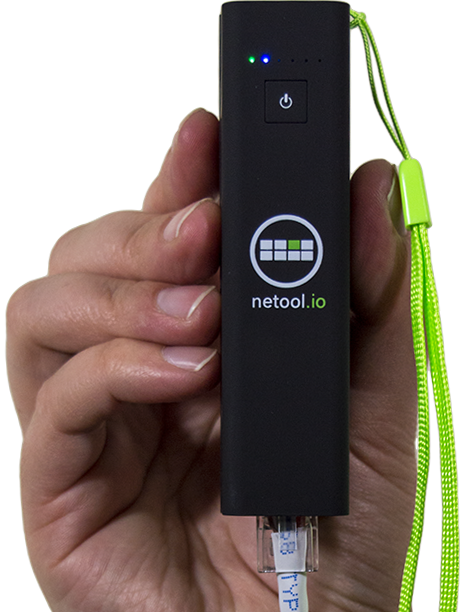 Connect over netool.cloud or tag and send important information to a team member via Text, messenger, or email!
DETECTED ETHERNET PROTOCOLS
Netool.os
netool.io devices run a highly customized version of linux that we call Netool.OS. We built Netool.OS to be powerful, low energy consuming and upgradeable over the air.
SHARE DISCOVERED INFORMATION
Share discovered information via any text based app including text message, email, Evernote, Slack and more.
APP
Get important information quickly with the netool.io app on your iOS or Android devices. Also available for MacOS and Windows.
CONNECTIVITY TESTS
ICMP tests to the internet, local gateway and a custom IP.
NETWORK MAPPING
Save discovered information to the netool.io's local database or upload it automatically to the cloud.
REMOTE VIEWING AND TESTING
Connect a number of devices to one netool.io or many via wifi, Ethernet port or the cloud.
AP WIFI MODE
Ap mode for when WiFi is not available. 
PROTOCOL DETECTION
Netool detects information packed Ethernet protocols, analyzes them and displays them via the app.
Netool.cloud enables remote users to connect to your or a remote site's netool to view and run tests from anywhere.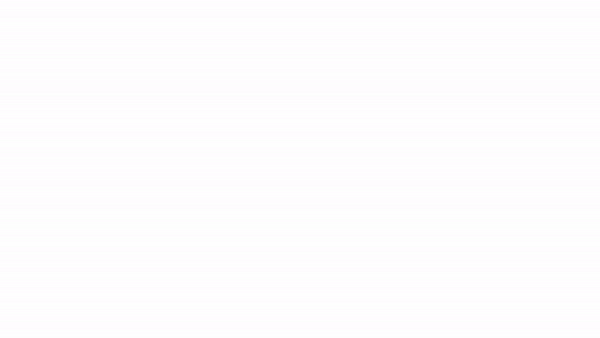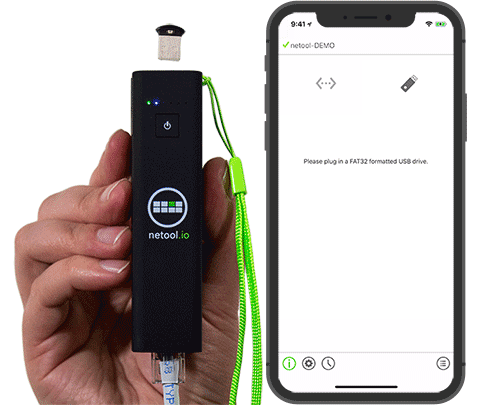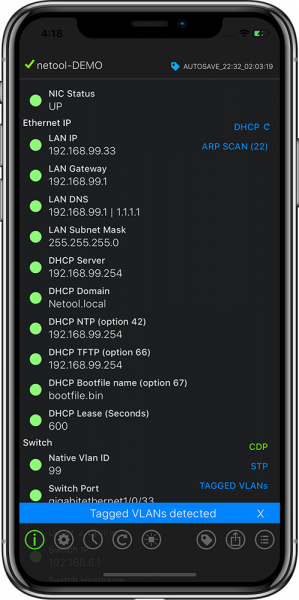 Updated with feature requests by customers:
   Dark Mode
   Autosave to History
   Tagged History memo field
   ARP Scan
   And more!
Click here for our user manual to discover what the netool can do for you!
"Netool it saved me on the hardest job I have ever done! 25 Ubiquiti access points and a grumpy client! Willie Howe posted it on his channel and I got one. It save my contract!!!"